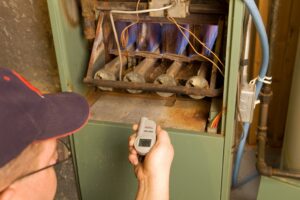 There is an interesting link between heating maintenance and heating repairs. Prioritizing heater maintenance annually is the best way to prevent major repair needs including heater breakdowns. Skipping out on heater maintenance means that you're more likely to need heating repair in Roanoke, VA.
No matter which heating service you need to schedule, our team is here to help. If you've never scheduled heating maintenance, now is a great time to begin. During our in-home inspection, we can talk to you about tips for optimizing your heater all season long. Keep reading to learn more about the benefits of heating maintenance and why the service is so crucial for your heater.
Benefits of Heating Maintenance
Investing in heater maintenance offers both long-term and short-term benefits. In the short term, your energy bills are lower and your home is more comfortable. You also have the peace of mind for the coming winter season that your heater will not face any unusual problems because it has been checked out by our team of experts. If we notice anything wrong during a maintenance appointment, we will talk to you about it and get the problem fixed.
Long-term benefits include all of the above and much more. HVAC systems, including furnaces, tend to lose some of their efficiency very slowly as the years go by. It's not until the end of the lifespan that this loss of efficiency can add up to make a major difference in your monthly energy bills. But when you invest in maintenance, you don't face this issue. Your energy bills are more likely to stay low year after year.
Your heater will also enjoy a longer lifespan. As with anything else in your home, the things that you take care of tend to last longer. When it comes to your heater, it has the potential to last for 15 years or longer, compared to only 8-10 years if it isn't cared for. Sure, you could get lucky and your heater could last for longer than what you expect without maintenance. But is that really a risk that you want to take?
What Happens When You Skip Heating Maintenance
It's easy to think that skipping out on maintenance is saving you money. But that isn't always the case. Sometimes you are just postponing your expenses instead. When you skip maintenance, it becomes more and more likely that you will face heater repairs in the near future.
And repair bills are almost always more expensive than a maintenance appointment would be. By the time repairs are needed, damage inside of your heater is more extensive compared to what it started at.
We can help you make the best choice for heating maintenance. Rely on the experts at W.C. Butler Heating and Air Conditioning and schedule an appointment today.