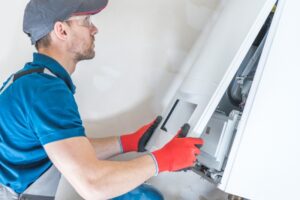 During this time of year, there are probably some noises you welcome. Maybe carolers traveling through your neighborhood, or holiday music on your radio. There are other noises, however, that aren't so pleasant, and definitely should never be turned out or ignored–we're talking about strange noises coming from your heater.
Now, there is not such thing as a completely silent heating system. You will always hear it cycle on and off. Plus, if you're using a furnace that has ductwork, you might hear a slight rattle as the ducts expand and contract with temperature fluctuations. And then of course, you'll hear the whoosh of air coming through the vents.
You really shouldn't hear much beyond this, though. If you notice noises that you've never heard before coming from your heater, no matter how subtle, it's probably time to give us a call. Read on as we uncover what some of these noises might be.