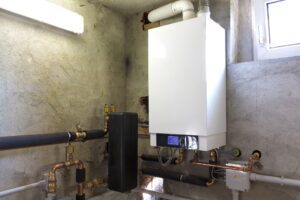 We've got good news about your home's boiler! If you take good care of it, scheduling annual maintenance and prompt repairs as necessary, you can expect your boiler to outlast most other heating systems. Where gas furnaces and heat pumps usually last for about 15 years, boilers can last for over 20 and may even reach 30 years of effective service. This is one of the reasons people still invest in boilers for home heating: they provide an excellent return on investment.
But no boiler can last forever, and it's better for you to recognize early signs that your home's boiler is reaching the end of its lifespan. You don't want to get trapped with a dead boiler in the middle of the winter, nor do you want to spend extra money to keep a boiler going when it should've gone to the recycling yard years earlier. 
We'll help you with our expert knowledge about boiler and water heater replacement in Rocky Mount, VA to detect the indications you need to replace your boiler.