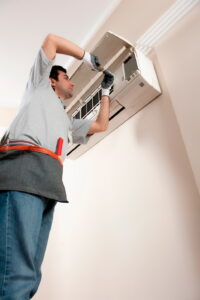 When it's time to upgrade your older air conditioner, you have a lot of options to choose from. One of those options is a ductless mini split system. It sets itself apart from other air conditioners and offers a wide variety of benefits.
You can schedule an appointment with our team today for air conditioning installation in Roanoke, VA. Our team can complete an in-home assessment to review with you how a ductless mini split would work in your home. Keep reading to learn more about how this air conditioning system stands apart from the competition and why it might be a good fit for you.
Unique Design
A ductless mini split is unique from any other type of air conditioning systems. You have small but complete air handlers in every room of your home that connect together and attach to a single outdoor unit. However, you avoid the need for one central indoor unit and attached ductwork.
Energy Efficiency
Perhaps one of the greatest benefits of a ductless mini split is the fact that it is up to 50% more efficient compared to a standard central air conditioner. With no attached ductwork to channel air through, 100% of the air that gets heated and cooled reaches the walls of your home directly. Because of this, you can cut your energy costs by as much as half.
Customization
And even though you can use a ductless mini split system to provide a consistent temperature across your entire home, you can also utilize the individual units to provide customized heating and cooling for each room of your home. If you have a family member who likes to be slightly warmer or cooler than everyone else, they can close their door and adjust their settings accordingly.
All-in-One Solution
A ductless mini split also eliminates the need to have a separate heater for the fall and winter seasons. The unit can switch effortlessly between heating and cooling at any time of the year. This might even save you some space over having to dedicate closet space to separate indoor heating and cooling units. Plus you win back space in your attic or basement where there would otherwise be ductwork. 
Cost and Maintenance
You do want to consider the potential negatives that come along with having a ductless mini split system. The upfront installation cost is significantly higher compared to investing in a central air conditioner. However, when you take into consideration the amount of money that you'll save over the months from energy costs, you can easily break even and potentially save more over the life of the unit.
You also want to plan on the maintenance expectations for a ductless mini split. With a standard central air conditioner, you're only performing maintenance for a single unit. But with a ductless mini split, you have to perform maintenance on each individual unit in the rooms of your home. This can mean cleaning out multiple air filters and paying attention to any signs of trouble across all of these units.
We can help you make the best choice for AC installation. Rely on the experts at W.C. Butler Heating and Air Conditioning and schedule an appointment today.