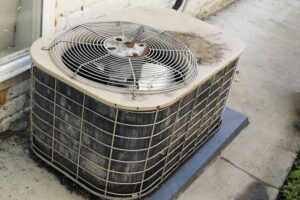 Summer is right around the corner, which means that right now is the perfect time to check on your air conditioner. You should ensure that your system is up to the job of getting you through the season. If it really isn't up to the job of keeping you cool over the coming months, then it's wise to replace it now, instead of waiting for the system to break down entirely.
The last thing you need is to be stuck with an air conditioner that simply doesn't work on one of the hottest days of the year. Read on as we uncover a few signs that it's probably time to upgrade your air conditioner before summer gets here.
Your Air Conditioner Costs Too Much To Operate
As your cooling system ages, it gradually begins to lose efficiency as the components within it wear down. At first, this loss in efficiency won't be totally noticeable. Eventually, however, it will be so severe that your AC system will be forced to run for longer periods of time to compensate.
This longer run time will increase the monthly costs of using your air conditioner. If your air conditioner costs a lot more to run than it did this time last year or than what your neighbors are paying, it's time to give us a call and start considering your upgrade options.
You Need AC Repairs Too Often
If you need an air conditioner repair every now and then, it's not a big deal. In fact, it's excepted that every few years or so you'll need to have something in your air conditioner fixed. This is true even if you're diligent about staying on top of your routine maintenance appointments.
However, if you find that your cooling system needs repairs multiple times a year, then it's time to give our professionals a call and start discussions about your upgrade options.
This high level of frequency in breakdowns can be due to the system finally giving in to years of wear and tear. The various components inside of it are starting to fail in groups, causing the frequency and cost of repairs to skyrocket.
Continuing to repair your system once it reaches this point is just going to be a waste of your money. You'll probably have to replace it very soon anyway. Better to upgrade it now, and head into summer with a new system you know you can count on.
Your Air Conditioner is 15+ Years Old
Even assuming that you stay on top of your routine maintenance appointments every year, and call for AC repairs as soon as you need them, you cannot expect your cooling system to last forever. The average lifespan for AC systems is about 10-15 years. After this point, they start to accumulate a host of chronic issues that will make it increasingly expensive to keep the systems up and running.
Once your air conditioner has reached this age, it's time to start talking about replacement options. You should know, today's air conditioner's are much more efficient than those of the past, so it's an added bonus if you upgrade!
To schedule your professional air conditioning replacement in Goodview, VA, contact W.C. Butler Heating and Air Conditioning!