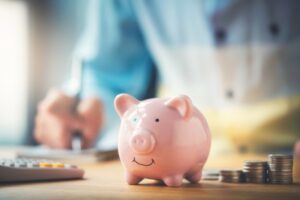 In the next couple of weeks, summer will officially be upon us! Of course, warmer temperatures have been known to grace us early, too. So now is the perfect time to make sure that your air conditioner is ready for the coming heat, and that you'll be able to use your cooling system as efficiently as possible.
That said, we hope you've taken the time to have spring maintenance done. Maintenance allows our technicians to fully inspect, clean, and adjust system components that need it for better system performance.
Even without maintenance, however, there are some actions you can take to boost the efficiency of your cooling system and therefore lower cooling costs. Keep reading as we go through some tips on how!
Raise the Setting on Your Thermostat
We get it, this sounds like very strange advice, right? Why would anyone want to make it hotter than it should be inside their homes? Well, the fact of the matter is, most homeowners–and this might include you–make it colder than it actually needs to be in order to maintain home comfort.
The EPA (Environmental Protection Agency) recommends a thermostat setting of 78°F, but many homeowners are setting theirs around 71-72°F thinking it will help the home cool down faster. In reality, this just makes the air conditioner run longer.
You can save energy and subsequently save money by raising the temperature to a more reasonable level. It also helps to raise the temperature when you're not home or when you're sleeping–when you don't actually need your air conditioner.
Use Your Ceiling Fans
Ceiling fans are not capable of lowering the temperature of the room they're in. Fans can, however, make you feel cooler. This is because they help to evaporate sweat from your body to keep you cool. So therefore, you're able to turn your thermostat up a couple of degrees and therefore use less energy.
This is because when you use your central air conditioner in combination with your ceiling fans, the fans help to push cool air down and evenly distribute it, while keeping warm air rising, for more effective and efficient air conditioner use.
Change the Air Filter
There are very few maintenance tasks that we would ever recommend a homeowner attempt on their own. However, changing the air filter is absolutely something you can, and should, do yourself every 1-3 months (depending on the type of filter and the level of contaminants in your home).
The air filter that comes standard with your central HVAC systems can get clogged up with debris like dirt and dust, which prevents the air conditioner from effectively drawing in warm air from the home. This means your air conditioner struggles to do the very job it was created for, and will therefore work inefficiently.
When you check and change the air filter, you should also check your air conditioner's outdoor unit. Are there any branches, leaves, lawn mulch, etc. surrounding the unit? This can restrict airflow! Remove any obstructions to ensure and boost energy efficiency.
For professional service on your central air conditioning in Roanoke, VA, look no further than W.C. Butler Heating and Air Conditioning. Contact us today!