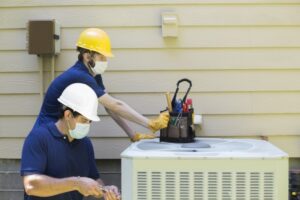 No air conditioning system lasts forever, unfortunately! Here at W.C. Butler, we have no shame in being honest about that–we want our customers to be well-informed about the comfort systems in their homes, and we aim to make sure your expectations about those systems are managed.
HVAC systems are one of the biggest investments people make in their homes, so when it does come time to replace one, it makes sense that you want to make an educated decision. After all, does it really need to be replaced, or can it get by with just a repair for now?
The short answer to this question is, "it depends." Read on to learn what the longer answer is.
When All You Need is a Repair…
Air conditioners don't always have to be replaced when they have a problem. After all, wear and tear is a normal part of owning any type of air conditioner, and sometimes your system may need nothing more than a relatively quick fix from a professional.
We're here to help you make an informed decision about what constitutes the need for an AC replacement and when you can get by with repairs.
Strange Noises: Noises can typically be located in a specific area and fixed. Maybe a small component will still need to be replaced, but strange sounds aren't always an indication that the whole system is failing.
Refrigerant Leak: There is a common misconception that refrigerant leaks on a regular basis and that it needs to be recharged (refilled). This is not the case, however. If you have a refrigerant leak, it's a problem, but not necessarily a catastrophic one! If this is the first time it's happened, the leak can be located and repaired, and refrigerant recharged, to get your AC back to normal operations.
No Cooling: Sometimes, homeowners might panic if something goes wrong with their air conditioner. This is especially true if the system stops cooling. This is the kind of problem that just happens sometimes though! And that's what our repair services are here for.
When You Do Actually Need Replacement
Now, not every air conditioner problem can be a quick fix, even with our trained and experienced professionals. Sometimes, a replacement really is the best option. Here are some signs that it's time for an upgrade:
Your Air Conditioner Is Old: The average useful service life of a well-maintained air conditioning system is 10-15 years. Anything beyond this point, the system simply cannot work as efficiently as it once did and is likely going to cost you more to operate than it's worth.
You Need Frequent Repairs: We mentioned above how repairs, or wear and tear, are normal for an air conditioner to need–but, how often? It's normal for an air conditioner to need a repair or two every couple of years. When those repair needs start creeping up to a couple of times a year or more, then it's time to consider if it would be more economically beneficial to upgrade.
Our team is happy to help you make this decision!
For professional air conditioning replacement in Roanoke, VA, contact W.C. Butler Heating and Air Conditioning.