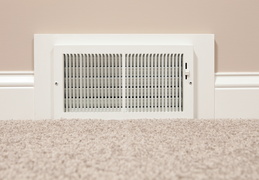 Air conditioning maintenance is one of those services that people often think of as a luxury—not something that is really needed but is just "nice to have." We guess we could say that it's not really needed—not if you don't want an effectively and efficiently running air conditioner that will last the entirety of its extended lifespan.
AC maintenance is beneficial, and we are going to dive into why this is the case below. Maintenance is when our technicians come in and thoroughly inspect, clean, and adjust the components that need it, helping it to run smoothly and helping to lower your energy costs throughout the months and years. Read on as we uncover some of the main benefits of this service!
Maintenance Saves You Money
Some homeowners balk at the idea of paying for a service they don't actually need right now. After all, if your air conditioner is working "just fine," isn't that enough?
First of all, your air conditioner could almost certainly work better than "just fine," and an air conditioner that's just fine may actually be costing you, anyway. The cost of scheduling annual air conditioner maintenance (twice a year if you have a heat pump system) pales in comparison to the amount that you'll save on repairs. In fact, these tune-ups can help you avoid up to 85% of the repairs your air conditioner might ever need in its lifespan.
Will maintenance make an air conditioner 100% reliable? No, we won't promise that. What we can promise is that maintenance absolutely helps mitigate the repairs and wear and tear your system will have over its lifetime.
Maintenance Keeps You Comfortable
Paying less to use your air conditioner is of course a huge benefit. Paying less to operate your cooling system while improving your comfort is even better! We clean the system inside and out and adjust the components that need it during your tune-up. This helps ensure that airflow is where it should be, your thermostat is operating fine, and that overall your air conditioner is able to do its job to keep you cool.
Maintenance Extends the Lifespan of Your Air Conditioner
Without regular tune-ups, your air conditioner will accumulate wear and tear faster than it would have otherwise, and it will suffer from more repair needs than it should have to. As a result, the air conditioner won't last as long as it should.
When well-cared for, an air conditioner can last about 10–15 years. Without maintenance and proper care, your air conditioner might last 5–7 years. So not only will you probably be paying more for unexpected repair needs and breakdowns over the course of your system's lifespan, you'll have to pay for a premature replacement, as well.
Ask about Our VIP Maintenance Plan!
We offer the VIP Maintenance Plan to all of our customers. It includes a number of benefits, including one cooling and heating maintenance session each year, the aforementioned cleaning and optimizing of your system, and:
A 15% discount on all labor and parts
Improved energy efficiency from your AC and heater
Improved operation from your ductwork
Increased system lifespan
Better peace of mind when you head into heating or cooling season
Fewer repair needs over the course of your system's lifespan
Contact W.C. Butler Heating and Air Conditioning for your Roanoke, VA AC tune-up today!