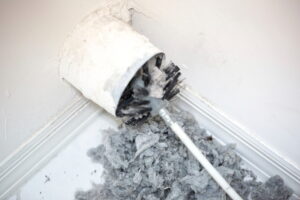 If you're like the typical homeowner, you probably do not think about the ductwork running through your home very much. And this makes sense! After all, your ductwork is hidden from view for a reason–nobody really wants to see that in their home, right?
You shouldn't need to think about what kind of shape your ductwork is in too often. However, every once in a while they do need attention. While you won't need to know all the ins and outs of this HVAC component, there are a few things we'd like to share with you about how dirty ductwork impact your indoor air quality.
Professional duct cleaning is a way to clear out this ductwork, which transfers your heated or air-conditioned air into your living space. Read on as we uncover why, yes, professional duct cleaning is totally worth it.
Professional Duct Cleaning Boosts Indoor Air Quality
Did you know that your indoor air quality can actually be worse than the quality of the air outside? At least, this is the case if you don't have the right products and services in place–and duct cleaning is one of those services.
Yes, your HVAC systems have an air filter. You may even have other indoor air quality equipment to help with air quality issues. However, your HVAC system's air filter and your other air filtration system are installed at the return duct, where air first goes into the system. The rest of your ductwork remains largely unprotected.
Your HVAC Systems Will Work Better
All of the dirt and debris that accumulates within ductwork over the years can interfere with the performance of these forced-air HVAC systems. The most efficiency air conditioning and heating systems cool or heat the air, then blow it back into the rooms of your home via the most direct route, your air ducts. So, dirty ductwork can cause friction and resistance that slows down the air.
If your ductwork is too clogged up with dirt, you might actually be paying more for your heating and air conditioning than you should have to. Even worse, there's a good chance that your ductwork has leaks, and this could be what's leading to dirty ducts to begin with. Holes and tears allow debris in like dust, and even allergens.

This is bad news in a couple of ways–for one your ducts are dirty! Secondly, you can be losing up to 30% of your conditioned air through damaged ductwork. If this is indeed a problem with your ductwork, our techs will spot it during your duct cleaning appointment and will be able to make proper recommendations from there to get your ductwork back in efficient shape.
Always Trust the Pros
There are, unfortunately, scammers out there. Dishonest companies may charge very little for "professional" duct cleaning, but might not do a thorough job. And because your ductwork is largely inaccessible, you may not ever know.
This is why you should work with a qualified and trusted HVAC contractor like us!
For professional duct cleaning in Roanoke, VA, contact W.C. Butler Heating and Air Conditioning today!