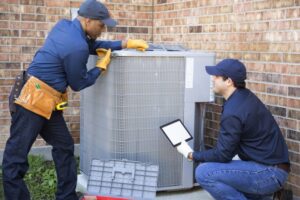 We're nearing the traditionally hottest time of summer, and if you are experiencing any AC issues right now, then we imagine you're feeling a bit panicked. We don't blame you! Fortunately, though, we're on your side and here to help.
Of course, you're either going to hear one of two recommendations from us… repair your AC, or replace it. The latter may seem dramatic, but depending on the factors we're going to cover below, it may be the best choice.
Be sure to reach out to our team to learn more about what AC options are on the market today, and how replacing or upgrading your air conditioner can benefit you. Read on!
When Are Repairs the Right Option?
Is your air conditioner less than a decade old? Is it well-maintained other than whatever problem it is currently experiencing? If you answered "yes" to both of these questions, then repairs may very well be the right choice for you.
For the average, professionally maintained, air conditioner, the useful service life is about 10-15 years. Sure, an air conditioner can still run past this time; however, it's not going to do so efficiently, and you'll continue to have repair needs. This means you'll be paying out far more than your air conditioner is worth.
As far as maintenance goes, the reason you'll see us talk about this service a lot is that it gives our professionals the opportunity to check for small signs of natural wear and tear before they grow into much bigger problems. This way, you're able to get those repairs on your schedule ASAP. Maintenance actually prevents up to 85% of the repair needs your system may ever require throughout its lifespan.
When Is Replacement the Best Option?
If your air conditioner is a decade old or more, needs frequent repairs, or is operating so inefficiently that you've seen your utility bills double… it's time to upgrade to a more efficient and more effective air conditioning system.
If you've discovered that your aging air conditioner requires repairs 2-3 times a year, and it's not working as efficiently as it once did, then it's worth looking at your installation options. Today's air conditioners are more efficient simply by nature than those of just a decade ago, and use a refrigerant that's better for the environment!
Here's where we talk about maintenance again–professional tune-ups done each year (twice a year if it's a heat pump system) will help your cooling system retain up to 95% of its original efficiency rating. However, there's a limit to this! Eventually, parts will wear down to the point that repairs won't help anymore, and efficiency will start to decline.
As a result, you will see higher energy bills, a decrease in home comfort, and increased repair needs. So even if you have been diligently maintaining your system, you'll be doing yourself a financial favor by replacing your aging air conditioner.
W.C. Butler Heating and Air Conditioning is your trusted local resource for AC repair and AC replacement in Roanoke, VA. Contact us today!