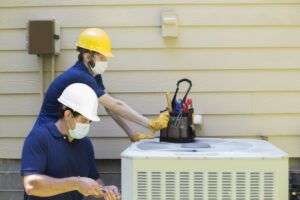 It's time to get set up for spring and summer! We know, warmer temperatures seem a long way off, but the truth is that they're just right around the corner. And so, you want to make sure that your cooling system is ready.
Scheduling AC maintenance, also known as a tune-up, before springtime arrives is the best way to make sure that your cooling system operates as efficiently and effectively as possible for as long as possible, throughout this season and its lifespan. Read on as we uncover some top reasons that now is the perfect time to schedule your next cooling system tune-up!
Boost Air Conditinoing Efficiency
Waiting to schedule your air conditioning maintenance could leave you in a tricky spot. Of course, the heat that comes with summer, and sometimes even spring, will leave you longing for an operational cooling system. But even operating an inefficient system could mean serious issues for your air conditioner and for your budget alike.
During your routine spring maintenance appointment, our HVAC professionals will make proper adjustments to make sure that your system is operating as efficiently as possible. Did you know that for every year an air conditioner goes without maintenance, it loses about 5% of its efficiency? Yet, if you do keep up on maintenance, your air conditioner can retain about 95% of its efficiency throughout its entire lifespan.
Boost Reliability and Comfort
The last thing you need on a hot day is a malfunctioning air conditioning system. A broken-down air conditioner could leave you feeling quite uncomfortable, especially when we venture into late spring and then summer. This is why it's so important to be proactive and schedule your air conditioning maintenance now!
Routine spring maintenance keeps your system operating reliably so that you can count on it to get you through even the hottest heatwave. Don't sacrifice your comfort for a faulty AC. Schedule service now to get the most out of your system!
Save Time and Convenience!
Far too many homeowners wait either until the last minute to schedule a tune-up, or they wait until their air conditioner is actually showing signs of struggle and call for repairs. The problem is, this can leave you with a malfunctioning air conditioner while HVAC technicians are addressing emergency service calls.
You shouldn't have to wait! By scheduling maintenance now, you make it a lot less likely that you'll have to work around an HVAC technician's schedule–instead, we can work around yours!
Be Sure to Trust a Pro
During your professional air conditioning maintenance appointment, our highly trained and experienced professionals will thoroughly inspect, clean, and adjust components that need it in your air conditioner.
We know exactly what to look for and how to alert you to possible problems with your cooling system. An amateur cannot guarantee this, nor can a DIY enthusiast. Additionally, having a qualified professional attend to your air conditioning maintenance keeps your manufacturer warranty in good standing!
To schedule your next appointment for professional AC maintenance in Roanoke, VA, contact W.C. Butler Heating and Air Conditioning.