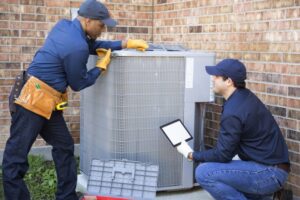 Did you know that the best time to schedule AC maintenance is right before or right after summer? If you did not schedule AC maintenance over the fall and winter seasons, you definitely want to invest in this service now before the heat of summer sets in. Otherwise, you may be calling us for an emergency repair instead of just a standard maintenance appointment.
This can be more of a headache and add up to a more costly expense. If you're ready to schedule air conditioning maintenance in Blue Ridge, VA, give our team a call. In the meantime, you can keep reading to learn more about why air conditioning maintenance is so vital for your AC, home, and family. 
Proactive vs. Reactive
When you invest in AC maintenance, you're taking a proactive approach to caring for your air conditioner. Most homeowners agree that they would take steps to prevent an impending AC breakdown if they could. The good news is, AC maintenance does just that. It's an investment that can prevent major problems that lead to a complete AC breakdown. When you take a proactive approach, you ensure that you won't be left without AC on the hottest days of summer.
Our team of experts understands the ins and outs of AC units and can quickly identify small problems that could eventually lead to bigger problems. When you fix small problems early, you can prevent a major headache later on. But when you skip out on AC maintenance, that means you are opting to take a reactive approach instead. This means that you may not schedule an appointment with our team until you absolutely need it. The problem with scheduling repair appointments in place of maintenance appointments is that sometimes AC repair needs are severe by the time you begin to notice the warning signs.
Save Money
You may think that AC maintenance is an optional expense. Cutting it out is saving you money, right? But that's not always the case. Sure, in the short term, you may save some money, but in the long run, it'll cost you more.
Preventative maintenance will always cost less than an emergency repair because small problems are much easier to fix than bigger problems. In fact, preventative maintenance can actually save you money when you consider how much it's possible to spend on expensive AC repairs.
Indoor Air Quality
When we talk about AC maintenance, we share a lot about energy efficiency. But the impact on indoor air quality is just as big. Sure, AC maintenance saves you money, and that's a very tangible benefit. But, it also has a major impact on your health. When your AC system is clean and operating at peak condition, it's maintaining cleaner air for your home. Skipping out on AC maintenance can mean more dust, dirt and microscopic particles such as bacteria and viruses are continually recirculating through your home. 
We can help you make the best decision when it comes to AC maintenance. Rely on the experts at W.C. Butler Heating and Air Conditioning and schedule an appointment today.