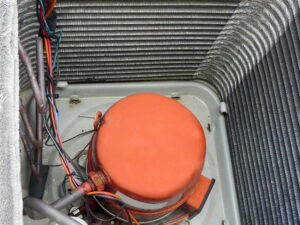 Over the years, there are many problems that can come up with your home's air conditioner, due to nothing more than natural wear and tear. This is especially true in a climate like ours, that gets hot and humid during the summer.
As your air conditioning system ages, you may find yourself facing things like refrigerant leaks, failed capacitors, and breached ductwork. Fortunately, many if not most of these problems are very easily resolvable, especially if caught during your annual maintenance appointment.
There is one AC repair in particular thought that's especially frustrating to deal with, and that's a broken down or damaged compressor. The compressor serves as the heart of your air conditioner, and the refrigerant that runs through it is what makes the entire cooling process possible. So you might wonder when yours breaks down, "Should I repair my air conditioner, or replace it?"
The Costliest Component
Did you know, that as the heart of your air conditioner, the compressor is the most expensive component in the system? This is a big part of the reason we'll recommend looking at your cooling system as a whole when this component fails. It may make more financial sense for you to upgrade the entire cooling system rather than to repair it by replacing just the compressor.
Before you make any final decision though, we want to mention how important it is that you work with a trustworthy HVAC professional to make the best decision for your air conditioner, comfort, and budget.
Compressors are tasked with compressing the refrigerant within your air conditioner. Compressors are often named as the culprit for a number of AC problems, which is why it's so important to work with a trained pro. You want honesty, when it comes to dealing with the compressor.
So let's say you know at this point that you're dealing with a compressor issue. The first thing you'll want to check is to see if it's still under warranty. If it is, then you will not have to pay for a new compressor, only the labor necessary to put a new one in place.
In the case of a current warranty, it totally makes sense to move forward with just replacing this component, and therefore repairing your current air conditioner.
In most cases though, by the time your compressor breaks down, the manufacturer's warranty isn't good anymore. And in this case, it typically makes the most sense to replace your entire air conditioner.
The thing is, you could pay to replace the compressor and the outdoor unit that houses the compressor of your air conditioner, but if it's matched up to an older indoor air handler, it's not going to work as efficiently as it should.
This is especially problematic if your old system still uses R22 refrigerant, a refrigerant that was phased out at the beginning of this year due to the harmful effects it has on the environment. A new air conditioner simply can't be matched up to an R22 system.
Fortunately, you have our team to turn to in order to make an educated decision about your next step!
For professional air conditioning service in Goodview, VA, contact W.C. Butler Heating and Air Conditioning.