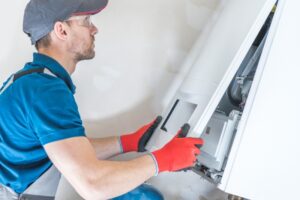 If there is any heating service we would say is most important, after professional installation that is, it would be routine professional heating maintenance. Sure, it's a little late to schedule this service… but unless your heater has completely broken down beyond repair, it's never too late.
In fact, it's more important that you are consistent with this service than it is what time of year you have it done. Maintenance allows our technicians to fully inspect, clean, and adjust components of your heating system so it performs as powerfully and efficiently as it should. Plus, it saves you money! Read on as we uncover some of the top reasons you should call us today to schedule your heating maintenance session if you skipped one this fall.
Maintenance Lowers Your Energy Bills
Perhaps everything seems "fine" with your heater as it is. You're able to stay relatively warm and it's getting the job done. But if you're paying more for your energy bills than you did this same time last year despite comparable use, something is wrong.
This is a signal that something is causing your heating system to work less efficiently. Maybe it's being forced to run longer than it should because of a miscalibrated thermostat. Or perhaps it's losing heated air through ductwork breaches. These are both problems that can impact your air conditioner as well, so it's even more important to have it checked out.
This is part of your inspection during maintenance!
Maintenance Decreases Equipment Repair Needs
Did you know that consistent maintenance can reduce up to 85% of the repairs your heater might ever need in its lifespan? This is because we are regularly checking on your system and the small problems it may accumulate over the years due to natural wear and tear.
For example, let's say that the lubrication has worn down on the motor bearings for the blower fan. This is a typical repair need, indicated by a screeching noise within the system. We don't think you'd want to listen to this and ignore it, but if you did what can happen is that small, typical repair need can have a domino effect on the system, eventually causing the blower motor to burn out.
This is a much more urgent and costly repair need, that could have been avoided if we caught the problem early, during maintenance.
Maintenance Increases Equipment Life
The same can be said for your air conditioner too—HVAC maintenance helps maintain efficiency and power so that your equipment doesn't wear out as fast. The average furnace is designed to last about 10-15 years. Without maintenance, you can expect that number to go down to about 5-8 years.
Ask About Our VIP Maintenance Plan
Homeowners often wonder if maintenance is worth the cost. If the above points haven't convinced you, how about the benefits of our VIP maintenance plan? These benefits include:
Discounts on all labor and parts
A multi-point inspection including cleaning, optimizing, tightening, and more
Improved operation from your ductwork
Investing in our maintenance plan will help you save money throughout the lifespan of your system.
For quality maintenance and professional heater repair in Roanoke, VA, contact W.C. Butler Heating and Air Conditioning today.