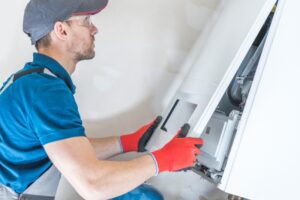 Fall is officially upon us, and along with some rain, we're slowly but surely seeing our nights (and days) become chillier. How's your fall planning going? Now is a great time to assess whether or not your home is actually ready for the change of seasons. A huge part of this is scheduling your heating maintenance tune-up.
We'll dive into this further below, but heating maintenance helps your heater work reliably–it allows us to comprehensively clean, inspect, and adjust the components that need it, so that your heater works as efficiently and effectively as possible, for as long as possible. Ultimately, this helps you save money. Read on to learn how!
Why You Should Think About Heating Maintenance Now
We get it–the word "maintenance" can make you groan. You already do this for your car, do you really need to schedule professional maintenance for your home heating system?
The short answer to this is, "Yes, you do."
Just like your car or any other complex piece of machinery, your heater has a lot of moving parts, and those parts wear down or could even become hazardous if not properly cared for. And proper care includes professional maintenance from trained and experienced staff, such as our technicians.
We want your family to not only be as comfortable as possible, but as safe as possible too. This isn't to say that furnaces or other heating systems are inherently dangerous–they aren't–but they can become harmful if not adequately cared for.
Professional maintenance ensures:
Safety: As we mentioned above, maintenance keeps your heating system safe. In the case of a gas-powered system, it could potentially become hazardous if it goes too many years without routine maintenance, as corrosion or other problems could set in and impact the heat exchanger component of your heater. Maintenance lets us catch problems like this early on so you can avoid bigger emergencies later.
Reduced Repairs: Did you know that professional maintenance can help reduce repair needs by as much as 85%? This is because maintenance allows our technicians to catch small issues early–this could include something like depleted lubrication on motor bearings or a worn blower fan belt. These are natural parts of wear and tear, but fixing them now means avoiding a surprise breakdown later.
Improved Efficiency: In addition to reducing repair needs, professional maintenance tune-ups help your heater retain as much as 95% of its original efficiency rating. On the contrary, every year that maintenance is skipped, your heater could actually lose 5% of its efficiency. Wear and tear will make it so your heater has to run longer or essentially "work harder" to get your home comfortable, which reduces efficiency and increases your energy bills.
Equipment Longevity: When a heater is properly cared for, it won't accumulate wear and tear as fast, and therefore can last longer. A well-maintained heater can be expected to have a useful service life of about 10-15 years.
Contact W.C. Butler Heating and Air Conditioning today for professional and reliable heater maintenance in Roanoke, VA.